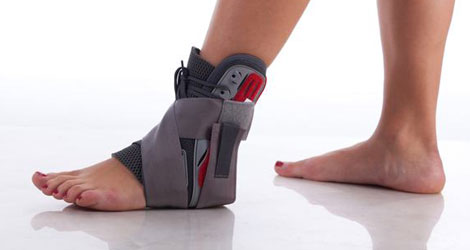 Whether you are an athlete or an individual who want support for the ankle during an injury or strain, reach us to get ankle braces & supports in Aurora. At Coxwell Physiotherapy Centre, we offer ankle braces made of stretchable fabric to provide fast healing.
Depending on your comfort level, you can choose the ankle braces that are pulled over the foot or that is closed using velcro straps. The braces are light in weight and come in various sizes for regular and wide fits.
Ankle Braces Benefits
Provide support to your weak ankle joints
Help to reduce the pain & swelling
Avoid injuries in future
Depending on the severity of your ankle injury, you may need to use the ankle support for at least 6 weeks or as suggested by your physician. Generally, people wear this until the pain comes down while sports-person are used to wearing ankle supports to prevent injuries.
How To Choose The Right Ankle Brace?
For an athlete, a lace-up helps to return to play after an injury.
To treat high ankle sprains or acute injuries, choose the stirrup braces that help to stay mobile.
For mild compression, opt for a sleeve that provides low profile compression and mild support.
For mild to moderate protection during regular activities, use the wraparound brace.
At Coxwell Physiotherapy Centre, our professionals assist you in choosing the right ankle supports in Aurora determining your ankle condition.
Looking For Ankle Braces & Support For Your Feet? Contact Us Today!