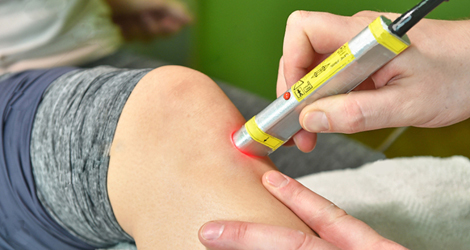 Laser Therapy is an effective treatment responsible for treating the chronic and acute pain conditions arising from injuries and muscular abnormalities. Unlike other treatment procedures like physiotherapy and chiropractic care, laser therapy is believed to provide quick results and recovery. Whether you are suffering from a muscular injury or a deep tissue injury, with a therapeutic Class IV laser therapy you can ease your ongoing pain and body troubles.
What We Do?
Being your local therapists in Aurora, we offer safe and reliable Class IV laser therapy to patients dealing with constant body pain. Whether you are suffering from an internal injury or nerve pain, we strive to relief your ongoing condition by focusing on tissue repair using the non-invasive laser therapy.
When used in conjunction with other treatment methods, it greatly helps in managing pain, reducing inflammation, and enhancing the recovery process. It also accelerates the healing process and decreases the issue of scar tissue formation.
How Laser Therapy Works?
At Coxwell Physiotherapy Centre, we have a team of certified laser therapists who know how to give the right laser therapy to achieve effective results. By emitting non-damaging infrared microwaves, lasers are meant to relieve the pain when applied over the affected body part. It penetrates deep into the body tissue and improves the tissue lymphatic drainage.
Laser therapy is a non-invasive technique that helps in reducing the pain and inflammation. When it comes to relieve, the laser waves from the device basically acts on the body cells and the inner mitochondria to increase the production of ATP chemical which speeds up the cellular activity in the affected area.
Conditions Treated


Tendonitis and bursitis


Soft tissue injuries & scar tissue


Muscle strains and tears


Sore muscles and joints




Degenerative joint conditions


Neurological pain such as sciatica


Musculoskeletal disorders


Anti-inflammation application


Visit Us Today For Laser Therapy Treatment!