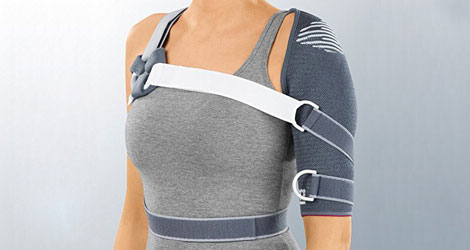 Shoulder injuries happen due to an accidental fall, general overuse or unnatural movement. To treat and prevent these common and severe injuries, we provide our customers with shoulder braces in Aurora. At Coxwell Physiotherapy Centre, our shoulder supports help to prevent your muscles and joints from overextending by limiting your range of motion.
No matter, you are suffering from pain in your shoulder or having an injury, the braces provide extra support to the affected area to minimize the movement and promote fast recovery.
What Problems Can Be Treated By Shoulder Braces?
Instability
Subluxation
Sport-related injuries
Weak shoulder
Strains
Fracture
Pre/ post-surgery
Inflammation of joints
Shoulder separation
Dislocation
A variety of conditions are there that can be treated with shoulder braces and some are as given above. Most people wear the shoulder braces until the pain becomes stable although depending on the situation, one should follow the instructions of a physician.
How Do Shoulder Braces Work?
The shoulder braces are mechanical devices that are applied to your shoulder to restore or improve its functions. Anyone can wear the shoulder braces as these not only helps to treat the existing health issue but also prevents future injuries.
If you need assistance to get right shoulder braces, consult with our trained physiotherapists in Aurora. We are committed to treating each patient with care and providing optimal and sustainable health services that heal and prevent re-injury.
We Would Be Happy To Address Your Concern. Call Us Today!